Auto Installers
Our hosting plans come with the Softaculous Premium script installation package included. This allows even the non-technical to install and maintain almost 200 popular website scripts such as Wordpress, phpBB, Magento, OSCommerce, Coppermine and many more.
If you're a web developer you might also appreciate our Javascript installer which can install popular Javascript frameworks like jQuery, MooTools, YUI and Rico for you.
Install Scripts on the fly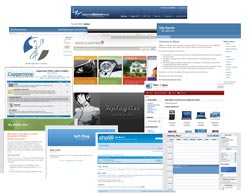 What's an Auto Installer ? An Auto Installer can be used to install scripts and software without you having to upload files. You don't need to create any database for the scripts and go through the complex procedures of installing these software packages!
Experience it Live

Experience and play with the script before installing them.
To help you choose the right software to install, we maintain DEMOS of all our software packages, so you can actually get a feel for the software before installing it.
Best of all, the demos are ready to go. Just log in and play.
Ratings and Reviews

You can compare the various software packages before installing. Users who have used these scripts have rated and reviewed them.
You can see these ratings and reviews and choose the scripts that would fit your needs. Then you can RATE and REVIEW a software package helping others make a wise choice.
Build websites faster and better
You'll build websites faster and better as you can install some of the most popular script by the click of a button. You can install Blogs, Portals, Forums, Galleries, Wikis, JavaScript Libraries etc. There is a wide range of scripts to choose from to automate your websites.